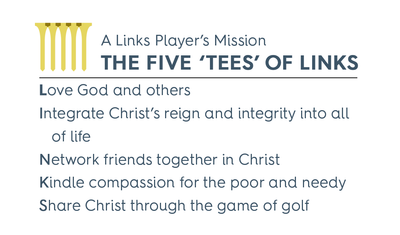 At Links Players, we help men and women change the conversation at their clubs and courses where they play golf—from surface to substance, me to others, and temporal to eternal. This happens through a ministry of presence, where a Links Fellowship allows participants to explore the life and words of Jesus Christ through examination of the Scriptures, to pray together in support of each other's walk of faith, and to reach out to those in their club who need the heart change that salvation in Jesus produces.
Links Fellowships get started when three or more people in a club come together in agreement around the five tenets of Links Players: Love God and others, Integrate Christ's reign and integrity into all of life, Network friends together in Christ, Kindle compassion for the poor and needy, Share Christ through the great game of golf. Once this happens, a Fellowship begins to meet and invites others to join them.
To help these local Fellowships flourish, we provide guidance through our regional and area staff, who have helped more than 200 groups like these get started across the country. Additionally, we create and provide free resources for the Fellowships to use, including the Links Daily Devotional, with Friday videos and Bible studies, around which the Fellowships can center their discussions. This means Fellowships can start and be supported anywhere in the world, even if we don't have staff nearby.
With no overhead in buildings and a nimble, hard-working team, we have been able to advance the work of Links Players over the past 35 years through the generous support of our donors, who understand the vision of reaching influential men and women who have the ability to impact many others when their hearts are changed and they follow Jesus with new intent.